Davao City, the Crown Jewel of Mindanao, is home to nearly 2 million people and that population is rapidly increasing just as its urban development becomes more emphatic. As economic progress spreads across the city, there is bound to be greater demand for its basic resources, particularly for clean, safe, and continuous supply of potable water.
For over 40 years, Davao City has been heavily reliant on groundwater, which is found in the cracks and spaces of soil, sand, and rock underground, and can be pumped to the surface after drilling a deep well. But when groundwater is being extracted at a faster pace than the replenishment of aquifers (huge storehouses of water), wells can dry up and cause land to sink. If groundwater decreases relative to sea level, saltwater can seep through the deep well and contaminate the water supply.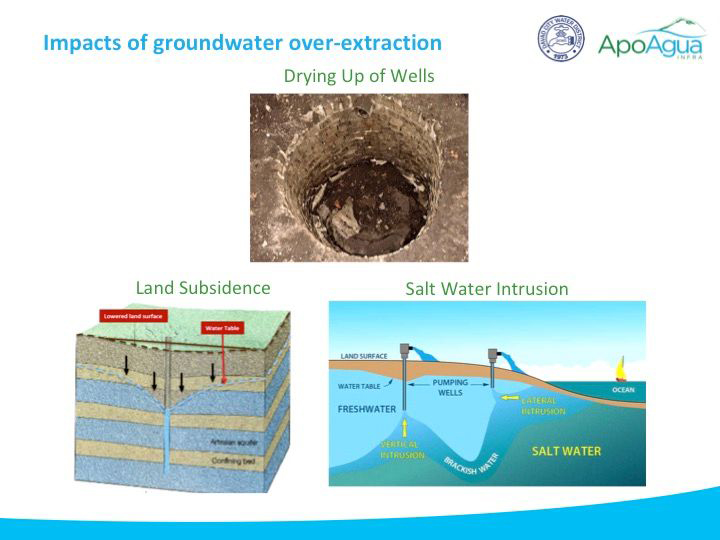 Let's not wait till the water runs dry
To avert the scenario of drying out its primary source of drinking water, the Davao City Bulk Water Supply Project (DCBWSP) was created through a partnership signed in 2015 between the Davao City Water District (DCWD) and Apo Agua. The project aims to limit the extraction of groundwater to preserve the city's water table and save it from irreversible environmental degradation such as land subsidence and saltwater intrusion – ensuring the sustainability of Davao's water supply. Apo Agua, a subsidiary of Aboitiz InfraCapital (AIC), is a joint venture company between Aboitiz Equity Ventures (AEV) and J.V. Angeles Construction Corporation (JVACC).
Once operational, DCBWSP will provide 300 million liters of water per day over the next 30 years while shifting dependence (for the city's main water supply) from groundwater wells to more sustainably-sourced surface water from the Tamugan River in Davao's Baguio District. By tapping the Tamugan, the project will access both the right quality and ample quantity of water to allow DCWD to temporarily shut down many of its groundwater sources and allow them sufficient time to replenish.

How it is advancing business and communities
To help drive economic progress that uplifts lives of Filipinos through infrastructure, Apo Agua has opened job opportunities for over 400 residents from host communities and impact barangays. This number is expected to increase to almost a thousand as the 60-km treated water pipeline is installed by 2021. Hiring and placement are closely coordinated with the barangay councils, which has led to talks toward conducting job fairs at the different localities. There are also regular medical and dental outreach activities and the creation of high school and college scholarships as well as materials donations to public schools located close to the project.
Majority, if not the entirety, of Apo Agua's raison d'etre revolves around the need to take good care of the environment to ensure the sustainability of our water supply. As the company supports ecosystem preservation efforts for the Panigan-Tamugan watershed, it is planting over 3,000 seedlings in the area through DCWD's Adopt-A-Site Program. It has recorded a remarkable seedling survival rate of 100% owing in part to those who work to protect and preserve of the watershed: over 200 Bantay Bukid volunteers who will soon receive insurance coverage through Apo Agua.
Relative to this, Apo Agua is also working on the Panigan-Tamugan Integrated Watershed Development and Management Plan. The study is a response to the emerging challenges and prevailing issues in the watershed area where the surface water source for the DCBWSP is located.
When nature drives the technology
Another source of pride for Apo Agua is the DCBWSP's Water-Energy Nexus, a unique component of the project and a first in Southeast Asia. The way it works is the water treatment facility will be able to generate its own energy by harnessing water pressure passing through its 2.4MW run-of-river hydroelectric power plant. The energy generated will, in turn, power the water treatment plant to clean the raw water.
But that's not the only wonder of natural science for the project. The DCBWSP facility will harness gravity in delivering raw water to the water treatment plant and on to the eight DCWD reservoir locations, in essence, creating an uninterrupted power supply.
For DCWD, shifting to sustainably-sourced surface water would mean a reduction in operational costs, e.g. lower energy costs. These savings can then be reallocated to initiatives such as further expansion of service coverage, improvement of distribution pipeline networks, and enhanced infrastructure and equipment.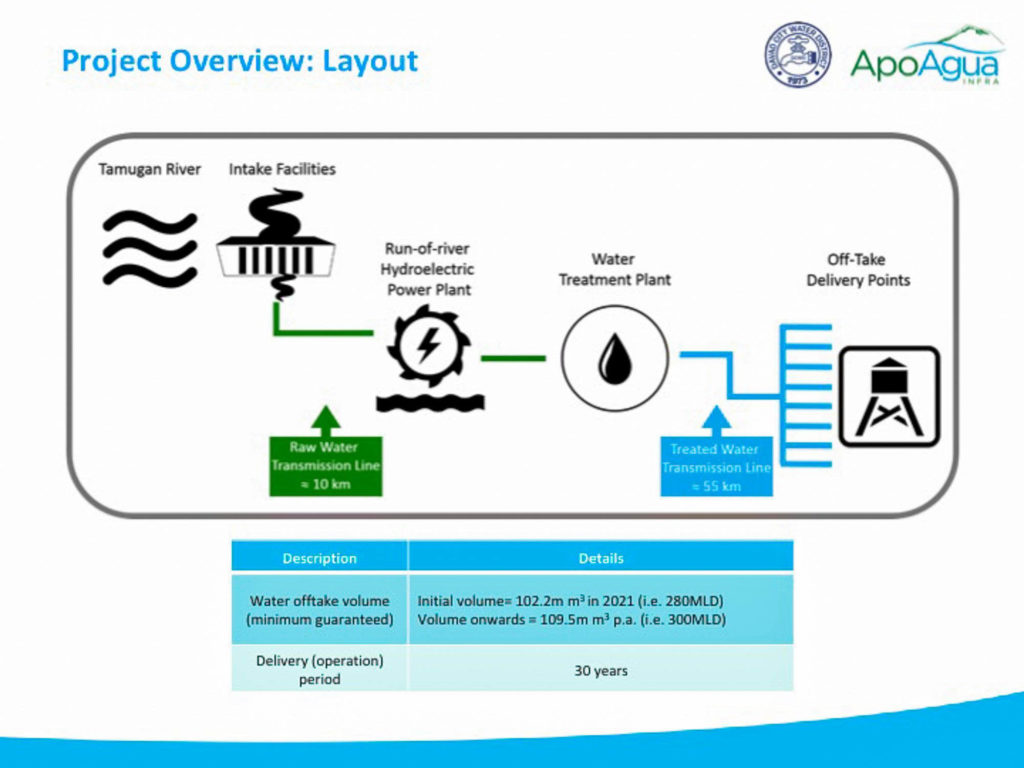 With construction works for the penstock, 10-km raw water pipelines, and water treatment plant well underway, overall construction is on track to be completed by the first half of 2021.
Once the DCBWSP operates in the first half of 2021, the water availability in all service connections that will be served by the project will improve with 24/7 water supply availability and adequate pressure